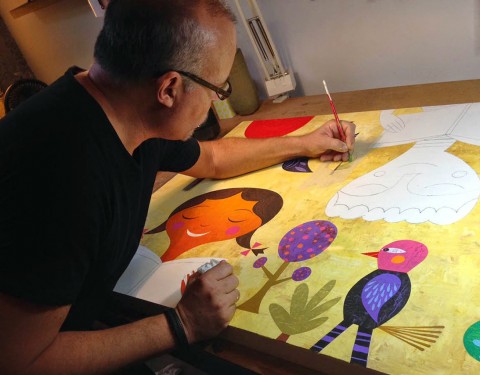 Growing up in Mexico City Rafael was immersed in the rich cultural heritage and native color of street life. Influenced by Mexican surrealism and stories he developed a style with roots in these traditions.
His illustrations for Drum Dream Girl, written by Margarita Engle, were the recipient of the 2016 Pura Belpré Illustrator Award, given by the American Library Association to honor work that best portrays, affirms and celebrates the Latino cultural experience in children's books. He was also honored with the Pura Belpré for illustration in 2010 for Book Fiesta! written by Pat Mora. He has won Pura Belpré honors for illustration in 2014, 2012 and 2006 and two Americas Awards. In 2012 he was selected by the Library of Congress to create the artwork for the National Book Festival in Washington D.C.
His work on the Urban Art Trail Project transformed San Diego's East Village with colorful murals. This was the catalyst for development of a graphic style giving children and families the opportunity to paint large scale murals with the artist. His murals can be found in California, Colorado, Connecticut, Illinois and Washington State.
Rafael divides his time between his studios in the colonial town of San Miguel de Allende, Mexico and a loft in downtown San Diego where he works and lives with his wife and son.
.
More info about Rafael López