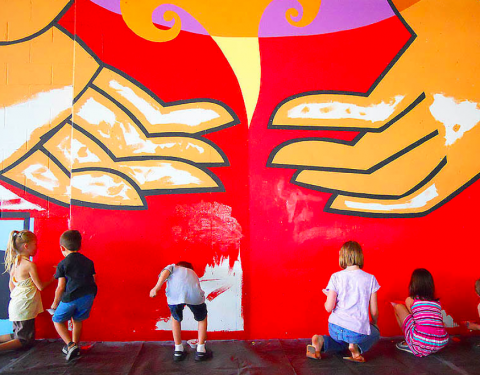 Rafael and Candice López designed a plan to bring people together to create art so that their neighborhood could become a better place for all to live. They held meetings in their home to share their idea. Everyone was invited—police officers, graffiti artists, teachers, single parents, children, homeless people, and more. With the help of many, the Urban Art Trail was born, and volunteers of all ages, races, and walks of life committed themselves to a common goal: reviving their community through art.
First came murals entitled The Joy of Urban Living and The Strength of the Women. Then the community painted utility boxes and benches bright colors. They crafted mosaics around the trees along the streets. Rafael and Candice had noticed that in their neighborhood, people often looked down at the ground as they walked, so they painted poems in calligraphy on the sidewalks. Little by little, the entire neighborhood became a work of art—and an inspiration to those who lived there.
The impact of art in the neighborhood grew. Some of the painted benches were auctioned off, and the money provided classes and scholarships for at-risk students who had an interest in art. Visitors came to admire; donations big and small came in. And what had once seemed to be an impossible dream became a trademark of San Diego's East Village spreading to other neighborhoods and cities.